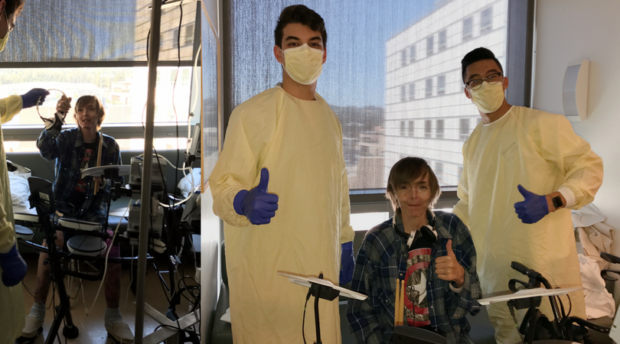 October 18, 2017 | News
Recently, Children's Music Fund Founder and President, Dr. Raffi Tachdjian and members of the Children's Music Fund (CMF) staff personally delivered an electronic drum set to a child undergoing treatment for his medical condition at UCLA Mattel hospital. Not only was this our latest instrument donation, but it was a very heartwarming and emotional experience, as it all came together through the generosity of longtime CMF supporter, comedian and actor Maz Jobrani.
When Dr. Tachdjian first visited this young patient named Lucky, he was alone in a big hospital room. His condition is often referred to as a "bubble boy," which requires complete isolation. Lucky was not permitted to leave his room as even the slightest infection could have drastic consequences for his health.
Dr. Tachdjian spoke with him through the glass, asking him what he liked to do in his spare time. He responded with, "I play cards." Then Dr. Tachdjian asked, "Do you like playing music?" Lucky said, "Well, I used to play the drums." Committed to his mission of healing through music, and reminded of CMF's first instrument donation 15 years ago, Dr. Tachdjian promised to give Lucky his very own electronic drum set.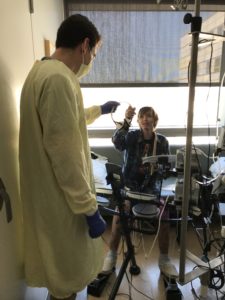 The following week, Dr. Tachdjian contacted Maz Jobrani about this sick child's isolated hospital stay and his love of music. Maz graciously offer to donate an electric drum set to fulfill Lucky's wish. We knew that this was a special type of donation, so members of our staff, including our Executive Director and Program Coordinator, decided to join Dr. Tachdjian in personally delivering the drum set.
A drummer himself, our Program Coordinator, helped get Lucky all set up and then Lucky showed his talents, and was incredibly grateful for CMF's contribution. With the use of headphones, Lucky can now play drums in his hospital room without disturbing other patients. As a Children's Music Fund instrument donation recipient, Lucky will get to take the drum set home after his hospitalization. We wish him well with this treatments and are inspired by his passion for music.
This story is just one of many instances of how Maz Jobrani has shown CMF his support over the years. Since 2011, Maz has headlined and produced an all-star lineup of comedians for Children's Music Fund's annual comedy night benefit. Additionally, he continually sponsors music therapy sessions for chronically-ill kids to manage the pain, anxiety and fear associated with their medical conditions. That is why we are proud to be honoring Maz as our 2017 Healing Angel at our Healing Through Music Gala on Saturday, October 21 at The Village Recording Studios.
As we celebrate our 15 Years of Service, there is no one more deserving of this honor than Maz, as we can always count on his unwavering support, whether it be through his donations or by making our supporters laugh each year at our comedy benefit!

–Dr. Raffi Tachdjian, Founder & President.
Join us in thanking Maz for all that he does for CMF at the official celebration of our 15 Years of Service. Reserve your tickets for our Healing Through Music Gala: 15th Anniversary Masquerade and see Maz receive the honor. Proceeds from all ticket purchases benefit our music therapy programs and instrument donations. Tickets at www.theCMF.com/gala