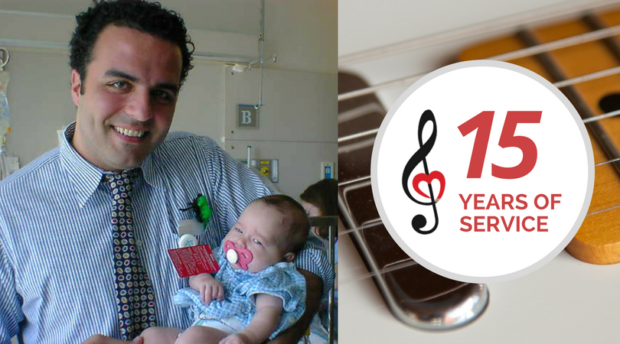 September 29, 2017 | News
By Hilary Pemberton.
Children's Music Fund is proud to be celebrating our 15th Year of Service this fall! It's hard to believe that it has been 15 years since our President and Founder, Dr. Raffi Tachdjian started the organization with one guitar donation and the motivation to help his patients heal through music.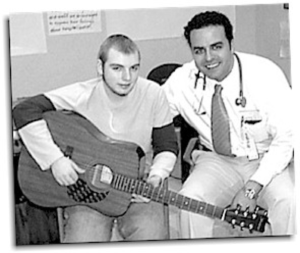 Music is transcendent, impacting people in a way that is nothing short of exceptional. When Dr. Tachdjian, a passionate musician, became a practicing allergist and pediatric pain specialist, he began working with sick patients every day. These ill children were struggling in a way that he could not ignore. He remembered the positive impacts music had on his life growing up and he wanted to give his sick patients the opportunity to experience the power of music.
When Dr. Tachdjian bought a guitar for a sick hospital patient in 2002, he knew he couldn't stop there. He dedicated himself to finding a way to bring music healing to as many sick children as possible. 15 years ago, Dr. Tachdjian's dream of helping children through music became a reality and Children's Music Fund was born.
Today, CMF's legacy is celebrated. Over the last decade and a half, we have promoted music through healing and provided children with thousands of hours of fully-funded music therapy, hundreds of musical instruments, and have sponsored quantitative research to further integrate music with medicine. We have also built mobile recording studios to help enable beneficial therapy sessions. Each year, CMF helps 2000 kids on average. We have operated into nine states and are continuously growing. With over 5,000 digital subscribers, we are supported and encouraged to keep helping kids.
Dr. Tachdjian's vision has grown into something remarkable and CMF has influenced the lives of many. John De Cola, a father of one of Dr.Tachdjian's early patients, shares his anniversary reflection:
I met Raffi in Boston as a resident at MGH he took my 2-month-old daughter and would take her on rounds once in awhile, during this time i was able to witness some of the beginnings of the CMF – He is one of the most caring and dedicated doctors I have ever had the pleasure to meet and was so happy he was one of the residences that was taken care of my daughter. Today 15 years later she is here a happy 15 years old and partially because of his care.
We're proud that John's daughter is happy and healthy 15 years later, just as we here at CMF reflect and look forward to our next 15 years of growth. Join us in celebrating our 15 Years of Service by getting involved with CMF: attend our Healing Through Music Gala on October 21st or contribute directly towards our music therapy programs by donating today.