Our Mission & Story
Children's Music Fund is a 501(c)(3) nonprofit dedicated to providing music therapy and musical instruments to children and young adults affected by chronic conditions or life-altering illnesses, as well as to support quantitative research on such efforts.
Based in Los Angeles, CMF is a national organization that serves Southern California patients and hospitals. Dr. Raffi Tachdjian (allergist & pediatric pain specialist) founded the organization in 2002, after he was inspired by a patient during his pediatric residency at Massachusetts General Hospital. That patient, Justin, was a guitar virtuoso, but had basically given up on life when he failed his last round of experimental treatment for bone cancer. As a musician himself, Dr. Tachdjian understood the therapeutic benefits of music and when Dr. Tachdjian saw Justin's dismay, he knew that music had to be the focus of his treatment. After not finding any instruments in the hospital, Dr. Tachdjian went out of his way to buy Justin a guitar to facilitate this treatment. From that moment on, he was determined to raise funds to purchase musical instruments and later to provide music therapy, healing through music one child at a time.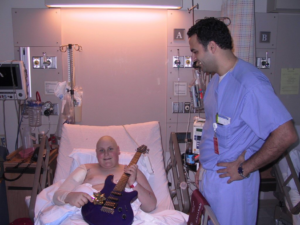 Over the last 15 years, we have provided thousands of hours of fully-funded music therapy services and hundreds of musical instruments to children in need. CMF serves young people affected by a wide range of life-altering medical conditions including different forms of cancer, blood disorders, lung/heart/kidney disease, autism, and immune-deficiencies. Far too often, these conditions have lasting consequences for not only young patients, but also their families and loved ones.
We maintain a network of carefully screened, board-certified music therapists, who provide weekly music therapy sessions for patients enrolled in our program, targeting the pain, fear, and anxiety associated with hospitalization, medical procedures, and disease. Sessions can occur in the hospital or at home. CMF has also built mobile recording studios to capture the therapy sessions, so that patients and families can return to those recordings and empower themselves. We also provide a musical instrument of the patient's choice.
CMF supports quantitative research on the effects of music therapy on chronic diseases and life-altering illnesses. Each music therapy session is tracked and the outcomes measured, in order to optimize the treatment as a natural healing remedy.
In 2015, CMF was in 9 states, providing over 2000 hours of music therapy.