Learn How Music Heals
Meet some of the kids that Children's Music Fund has impacted through music therapy and see how music has improved their quality of lives in various ways!
Miles
Miles was diagnosed with cancer in June 2013, which started his journey of procedures and treatments in his hometown of Seattle. Thankfully his family received the best gift of all during the 2014 holidays. Miles is 100% clear and healthy!
Miles is a musical kid, and like his dad, started playing the drums very early on. His aunt arranged for him to receive a guitar through CMF and shared the following note:
Miles really loves the guitar…I speak for all of us when I say, THANK YOU. He was excited to get it and continues to enjoy the new experience of playing the guitar. He uses music as an outlet to express himself and to use up some of his incredible energy. There were times while he was going through treatment when having music as an outlet really helped to keep his mindset on getting through the rough patches, either at Seattle Children's Hospital or at home when he was kept out of his social life to heal…Miracles happen and it definitely takes a village!
---
David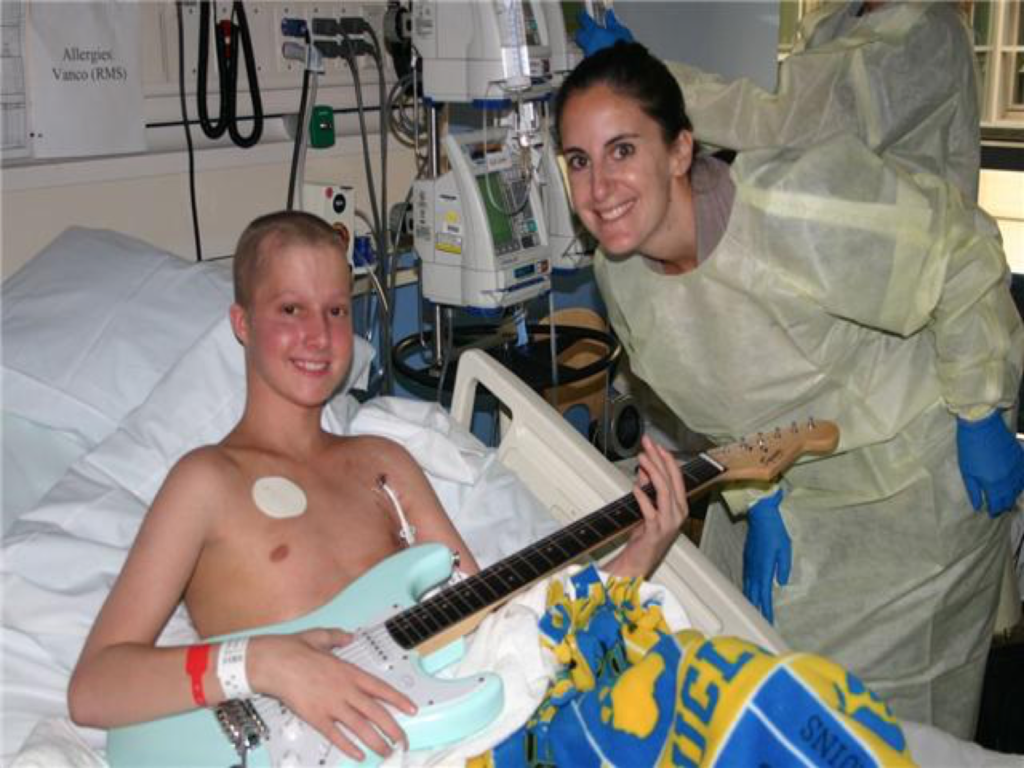 Our family loves this program. It was very beneficial for our son to have someone come in and play music for him when he was in the PICU and then as his health improved to interact and learn a new instrument is a great opportunity. As he is awaiting a transplant, it gives him something fun and productive to do. Also, this program meets the needs of teenagers. Many of the opportunities offered in the hospital are for younger children – especially nice to have something that appeals to teens. Thank you!
---
Mickey
Our son Mikey has cerebral palsy and suffers from uncontrolled seizures. He has significant skeletal and muscle deformation (like scoliosis) that has left Mikey in pain, unable to walk or speak. We first started visiting Dr. Raffi to assist in the management of his pain. It is difficult to gauge his discomfort because he is non-verbal. Dr. Raffi suggested Music Therapy. We were at first apprehensive, though knew that Mikey has always enjoyed music as well as loud action film soundtracks. Alex, Mickey's music therapist, entered the room and Mikey was indifferent to her, turning his eyes and not looking at her. Alex immediately started playing an acoustic guitar and started singing. Everyone in the room was captivated and Mikey immediately focused in on Alex. Over the next several sessions Alex befriended Mikey, utilizing several different instruments (piano, chimes, and bongos). Music Therapy has brought a higher quality of life to Mikey. He is now actively participating in the sessions, strums the guitar, mimics the notes or sounds and is fully engaged with Alex. We have noticed a calmer Mikey after the sessions and an increase in Mikey's verbal communication. He has begun to be more social with other folks and seems happy. Music therapy has brought greater happiness to Mikey, less pain and another form of communication–music.