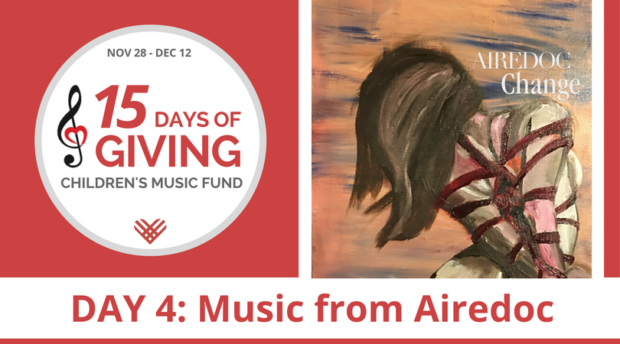 December 1, 2017 | News
Day 4 of CMF's 15 Days of Giving is about the music! Earlier this year we announced the official theme song for our 15 Years of Service celebration, written by a very familiar face to the organization; under his new recording project Airedoc, CMF Founder & President Dr. Raffi Tachdjian has released his song "Change," featuring Emma Ejwertz. To support our 15th Year of Service, Airedoc is donating his half of the proceeds from this inspiring song to CMF! Listen to a preview below and then help contribute towards Children's Music Fund by buying the track on iTunes.
Donations will add additional music therapists, expand programs at local hospitals and help more children requesting in-home sessions. Be a part of something special this holiday season, support CMF's 15 Days of Giving!
Visit www.theCMF.org/giving every day between November 28 through December 12 to find a different way you can get involved and contribute towards of music therapy programs!